Justin Lassen is no stranger to variety: He's produced remixes for artists ranging from Madonna to Blue Man Group to Lenny Kravitz. He's composed game soundtracks, including tracks for the wildly popular
Out of Hell
mod for
Unreal Tournament
created by Long Nguyen. But it was his
Synaesthesia
project that made it apparent Lassen is far more than meets the eye — or ear.
Synaesthesia, in which Lassen pairs his own ethereal music with still images produced by talented CG artists, defies easy description. But there is no shortage of accolades. Jerry Rees, a Hollywood producer who's directed for everyone from Steve Martin and Robin Williams to George Lucas and Michael Eisner, says that Lassen's project is responsible for nothing less than awakening the "fundamental expectation that fine art should effortlessly embrace analog and digital realms, while inviting participation by the eye, the ear, the mind, and ultimately I suppose, the soul."
Although Lassen is clearly well connected across the entertainment and technology realms, Synaesthesia emerged entirely independent of studios, music labels and software companies. It's a pure expression of creativity and talent from someone who, like the impressionists of the 19th century, is opening a new window on human perception and experience. Monet worked with canvas and brushes while Lassen's tools are computers and software. Both men helped to change the rules of how art is created and consumed.
The Technology Behind the Music Man
As a pioneering digital musician, Lassen is in high demand. He's also demanding of himself and his PCs, because creating high-end audio requires tons of raw — and smart — computing power. Recently, Lassen upgraded to a new PCAudioLabs Digital Audio Workstation with a state-of-the-art multi-core, multi-thread processor.
"It's an incredibly fast system, and things even installed faster than usual, which amazed me," he wrote in a May 16 blog entry, chronicling his efforts to load software to his new machine.
A digital native, Lassen says he relies on MOTU's Digital Performer, Digidesign's Pro Tools, Image-Line Software's FL Studio, Sony's ACID "and a dozen other applications, each worth checking out." But he seems to reserve a special affinity for Cakewalk, whose products, he says, he has used since the days of Windows 3.1. Cakewalk's SONAR 8 was one of the applications that were optimized and ready to take full advantage of the four cores and eight threads available with his newest processor.
The Birth of a New Art Genre
For his part, Lassen seems more than a little surprised at the attention generated by his work, which has been featured everywhere from CG trade magazines to art museums to tech trade shows. Though more than three years have passed since the release of the first of his four Synaesthesia collections, he is only now getting around to working on a CD that might be sold to his growing legion of fans. Asked about his motivations, Lassen is passionate in describing the creative process and his affinity for the community of CG artists while being conspicuously silent about the possibility of eventual commercial success.
"I collaborate because what can be done with two minds will always be better than one's sole vision, especially when collaborating with two different mediums in unique ways," he says. "CG artists are really special people who don't quite know what the outcome will be for their work."
One of these artists is Alex Ruiz, whose dark and foreboding scenes belie his decade-plus-long tenure drawing what might well be the most recognized contemporary cartoon characters: Bart, Homer and the rest of the Simpsons. A few years ago, Ruiz posted a digital painting entitled Thoughts to his Web gallery. The piece depicts a sinewy, wraith-like creature struggling to pull free from — or perhaps being pursued by — a looming organic-industrial chimera. Bart Simpson skateboarding down a Springfield sidewalk it is not.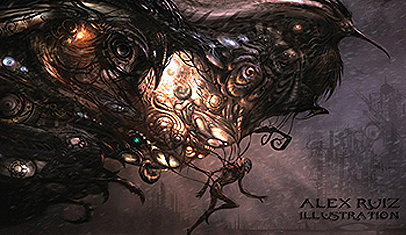 Listen to "That pounding in the back of you head" at:
http://features.cgsociety.org/story_custom.php?story_id=4612&page=2
Music: Justin Lassen
Thoughts @ Alex Ruiz www.conceptmonster.net
Soon after the piece was posted, Ruiz received an email from Lassen, whom he didn't know, asking about the possibility of composing music to accompany the image. Ruiz sent back a short note to say he was open to the idea. "He did a piece of music to it, and it was fantastic. It was beautiful and weird and creepy and dark, which is all that stuff I love," says Ruiz, who is quick to add that he's hardly a tortured soul and is in fact "a very down-to-earth, normal dude."
The finished piece, called That pounding in the back of your head — as well as others like it — reflect Lassen's dedication to using personal computers to not only do paying work for companies but to also pursue art as a fundamental means of human expression and emotion. Some people, like Hollywood producer Rees, praise Lassen for pushing the creative envelope. When it comes to mimicking the human imagination and marrying evocative images and music, says Rees, "We all say, 'Of course! These things belong together. I should have thought of that.' We should have. But he did. And he did something about it."